Live input of Anchor Tensions from upto 16 anchors .

Ability to connect buoys to anchor cable .

Barge position from independent

GPS unit or from Navigation Computer.
Anchor Deployment Monitoring
The anchor cable being monitored during deployment. A single buoy is attached to the cable.

Obstruction Monitoring
Monitoring anchor cable above a pipeline or wellhead
Plan view of Anchor Pattern in relation to pipelines and well heads. Includes the ability to enter safety
zones around seabed features. Plan view of Anchor Pattern showing, Anchor Positions, Buoy Positions
and Touchdown Points.
Water depth read from echo sounder, navigation computer or from DTM model of seabed.
System using DTM Model of seabed

Realtime Tension Input
Analogue Unit for reading Anchor Tensions. Up to 16 Anchors can be simultaneously read into the program.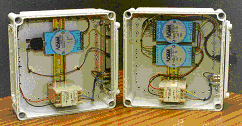 The analogue units use RS422 to communicate with the PC so can be situated remotely from the CAMS
computer system

Units of Measurement

Units of Length

Weight per Unit Length

Tension

Offline Catenary Computation
Vertical Scale multiplier

Catenary Tables
.